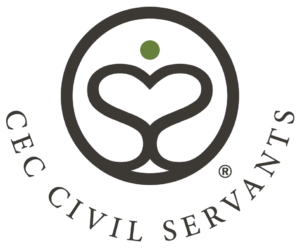 OUR PURPOSE
Enriching Lives to Glorify God
"In the same way, let your light shine before others, that they may see yourgood deeds and glorify your Father in heaven." – Matthew 5:16
OUR VISION
Connecting Hearts and Hands®
"Each of you should use whatever gift you have received to serve others, as faithful stewards of God's grace in its various forms. If anyone speaks, they should do so as one who speaks the very words of God. If anyone serves, they should do so with the strength God provides, so that in all things God may be praised through Jesus Christ." – 1 Peter 4:10-11
---
ABOUT CCS
CEC® Civil Servants is a community service, employee development, and giving organization created and run by CEC® with the goal of reaching out and making a difference in the community. We have chosen several specific areas of focus to increase our impact. Since we were founded and supported by CEC®, an engineering company, these focused efforts center on improving the infrastructure (both physical and emotional) that supports our lives and specifically improve living conditions for those in need. We have picked several community service activities, as well as various employee development and outreach opportunities CEC® staff, family and friends can participate in throughout the year.
At CEC®, we realize that God has blessed this organization and the people within it and it is our responsibility to take that blessing and share it with others. Our employees and the community matter to us, so we do what we can to make their lives a little better!
---
OUR HISTORY
Many years ago, CEC®'s Chairman of the Board, Marty Hepp, had a vision to make CEC® a company that had a holistic positive impact in the community. More than just making a profit and getting stuff built right, he wanted to see CEC® create a legacy of service, collective benefit, and changed lives. In 2012, together, with Melissa Leyba, they created a structure for the vision behind and concept for CEC® Civil Servants. Since then CEC® Civil Servants has grown to serve the more than 200 employees at CEC®, impacting more than 30 nonprofits, and touching the lives of thousands and thousands of children, teens, and adults.